Congratulation with your ATTICCO!
Before you start the assembly of your ATTICCO, you should know your options to get a unique piece of furniture. Maybe you already have decided your unique furniture expression that fits both your back wall and your wishes. If not, we will give you a little inspiration for you choice.
ATTICCO as Built-in Furniture
The calculation tool for Built-in Furniture uses as standard a leg height of 10 cm. If you want a lower leg height, as low as 7 cm, it is not a problem. But, if you want higher legs – up till 20 cm, you must (re-)use the calculation tool Select to find out whether this is possible.
BEFORE YOU ENTER THE HEIGHT OF KNEE WALL (figure A), you must deduct from the actual knee wall height, the difference between the standard leg height (10 cm) and the height of the legs you want to use. Example: If the knee wall height in question is 145 cm and you want a leg height of 15 cm (+5 cm above standard), enter knee wall height 140 cm in the calculation tool (140 cm is reached by deducting 5 cm from 145 cm). Their is no change to figure B (Angle of the slooping wall).
Please note that a safety buffer of 30 mm has been incorporated in the calculation model. This safety buffer ensures that you can fit legs on built-in furniture while it is in the knee wall space. If you can push the furniture into place with the furniture legs already fitted, e.g. while it is standing on a thin sheet or you build your own plinth, this buffer of 30 mm will not be needed.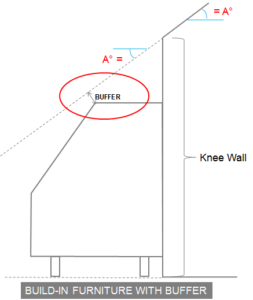 ATTICCO as Freestanding Furniture
If you have purchased ATTICCO as Freestanding Furniture, you can in most cases adjust the furniture expression in form of:
Changing Furniture heighte
Changing Furniture depth
The flexibility of expression is illustrated below as alternative 1 or 2 or something in between.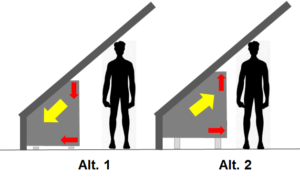 By reducing the leg height (down to minimum 7 cm), the furniture will be pulled back under your sloping wall and be less visible. Opposite when the leg height is increased (to maximum 20 cm), the furniture will be pushed up and out into the room and the side pieces will be deeper. The furniture height may vary by up to 13 cm, while the furniture depth may vary by up to 25 cm. Check out your options for alternative furniture expressions by the calculation tool Select
Ready for assembly
The assembly of ATTICCO Freestanding Furniture and Built-in Furniture deviates at certain points. We recommend you to follow the included assembly instruction that will state in details how you should assemble all furniture variants.
Assembly of Freestanding Furniture (Solo) is expected to take 2-3 hours (least time for a shelving unit – most for a dresser) if you have all the necessary tools at hand. The time for assembly and finishing of Built-in Furniture depends on local conditions around the knee wall, but will probably take 1-2 hours for the furniture alone. Add to this time for preparation and finishing of the knee wall. For ATTICCO Duo you may add 50 % and for ATTICCO Trio you may double the time.
No matter whether you are going to assemble Low or High vaiants, the sequence must be as shown below:
Specific instructions & movie clips
In the sub menu "Instructions and movie" you can also find the assembly instruction. Over time we will add small movie clips demonstrating measuring and assembly.

PLEASE ENJOY YOUR ATTICCO!